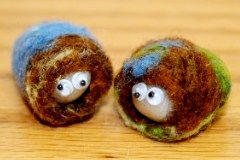 Bert & Bart, Twins who did not want to be separated
so they are traveling together somewhere.
Are Bert & Bart with you?
This website is for the Inanimate Pets to be able to stay in touch.They grow quite fond of each other before being shipped out for their adventures via Art-o-Mat. It would be nice to know where they are Kerplunked from and where they settle down to live.
About Inanimate Pets
Pet rocks were popular in 1975 for a brief period of time. After having been genetically created they could not simply be uncreated. Instead, finding no one interested in giving them homes, they migrated to Florida for the warm climate. Once in Florida they found many attractive gardens, ponds, and lakes where they settled and became feral.
They are not easy to find, for being shy creatures, they hide under less evolved rocks and pebbles. I discovered a more outgoing Inanimate Pet on the edge of my Koi Pond at my new home. Buster, the Inanimate Pet, was watching the Koi and giggling quietly. Rather than hide as I approached, he allowed me to befriend him and, over time, introduced me to his large family. The Inanimate Pets(IP) breed very quickly when happy and before I knew it, I had hundreds of them rolling around my yard.
When Art-o-Mat was installed in my Museum I had the idea to give my little friends an adventure by letting them travel back out into the world via Art-o-Mat. I discussed it with them and they were all eager for the opportunity. Their one concern was leaving the warm and hospitable weather of Florida. With the promise of a cozy new sweater they were set to go. Each IP helps to select the colors for their sweater and they have gotten very good at pounding the wool fibers into the sweater fabric.
Please be kind to them and give them good homes. They are sweet, easy to care for little creatures who make excellent company. They do like to be with other Inanimate Pets so you may want to return to your local Art-o-Mat and Kerplunk several more.